Wendy was just entering her second year of teaching high school math teacher when she received her early stage breast cancer diagnosis at age 48. Two years later, she received her metastatic diagnosis when she went in to have her ovaries removed as a precautionary measure because her cancer was hormone positive. When doctors performed a routine biopsy of her ovaries, they discovered breast cancer cells and realized Wendy's cancer had metastasized to an ovary. "My oncologist was convinced that I was metastatic from the beginning," she says. Wendy started a treatment called Faslodex and began teaching fulltime as planned ("it never occurred to me to stop teaching until I couldn't work") and remained stable for the next five years.
After progression was found in her spine, Wendy switched treatments and has been on a number of treatments in the seven years since. This fall Wendy's doctor said "he thought this was it" because she was nearly out of options; and she didn't expect to make it to her birthday. A new chemo helped, and in early March Wendy switched to a new medication, PIQRAY, which has recently become available as a first-line treatment for patients like Wendy who have ER/PR+, HER2- breast cancer and possess the PIK-3-CA mutation, which is approximately 40% of this group.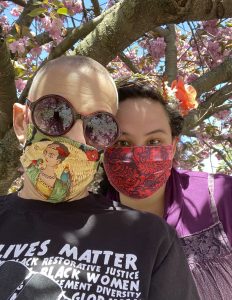 Wendy finally had to stop teaching because of extreme fatigue but says that "I feel physically much better" now (PIQRAY has had very few side effects for her thus far) and hopes to begin volunteering with students this fall. "I miss having that purpose. I love teaching. I love having the connection. The kids are important, especially now."
And by the way, Wendy just turned 60 a few weeks ago. Happy birthday, Wendy, and here's to many more.
Thank you for sharing your story with us. Those will be some lucky kids this fall!