In 2003, Anne was diagnosed with Stage III breast cancer—five tumors in her left breast—at the age of 42 – and completed 6 rounds of Adriamycin and Cyctoxin, considered an aggressive chemotherapy at the time.
The next summer her back began hurting while playing with her 3, 6, and 11-year-old children. Initially thought to be sciatic nerve pain, an x-ray of her lower torso ultimately revealed that Anne had metastatic breast cancer that had spread to her bones and perihilar right lung. Anne began receiving Herceptin and a hormone blocker for her Triple Positive cancer (for more information on breast cancer subtypes click here). That was 16 years ago. Today Anne's children are 19, 23, and 28. "I don't know why I'm still here," admits Anne. "I could burst into tears just thinking about it because so many women don't make it this long but I'm very grateful and blessed."
While Anne has remained on Herceptin over the past 16 years, to date her lines of treatment and hormone blockers have changed nine times due to cancer progression. Eight years ago, Anne was on her final treatment option. However, a new treatment soon became available that halted the progression of Anne's cancer once again. Today, Anne says there are multiple treatments in the pipeline if her current protocol stops working. They have all become available in the past seven years. "I describe it as going from lily pad to lily pad," says Anne. "I'm not going to reach the other side in the sense that I can get off the lily pads, but I always look at what's next in the lineup." Anne is pragmatic and forward-thinking when it comes to her illness. "I've made the assumption that whatever I'm on will stop working. If it fails, what do you see me doing next?"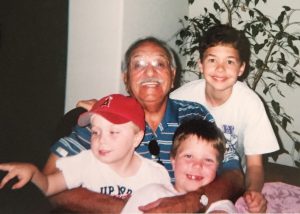 Like many of us, Anne sometimes gets frustrated that others don't always understand that MBC requires lifelong treatment and impacts us every day. "I look okay, but people don't see me brush my teeth, get dressed, and think to myself, oh my god, I'm exhausted." However, Anne also feels gratitude for the many wonderful things in her life, most importantly her husband and three sons, and often refers back to one particularly valuable piece of advice she received to help keep the fear lurking below the surface away. "My father-in-law was a World War II vet and he survived things where he must have had guardian angels around him. And he said, 'Anne, right now at this moment, everything's fine. Chris [Anne's husband] is fine. You're here. Your kids are here. For right now, you're still here in this moment.'"
Anne also finds a practice she learned in counseling to be helpful during particularly difficult days. She takes a thumb and each finger and names something that is real. "The sun is out. The puppy is sleeping. I have a headache but I'm in the house. My neuropathy is killing me but I can still walk." Anne says, "That would calm me down."
Anne's other advice is not to be afraid to get second opinions and "get third opinions." Anne, generally a healthy eater, has maintained, and even improved, her lifestyle in the years since her diagnosis. "Sugar was the bane of my existence but cutting it out was something I could control. I also cut out drinking. I went to decaf coffee. I went to green tea." Anne says she doesn't know if this helped or not, but it has given her a sense of control. And today, she says "I'm 80 percent good. I'll eat cookies. I don't drink a lot of alcohol. One or two glasses a month. Everything in moderation."
Anne recognizes that everyone's bodies are different ("otherwise, wouldn't our side effects from treatments all be the same?") and advises women to avoid looking at statistics.
"It's one step at a time. I try not to bite off the whole thing and just try to focus on the immediate."
For Anne, one step at a time has turned into over 16 years. Thank you, Anne, for sharing your thoughtful and wise words with us today.