At age 33, Melissa was diagnosed with metastatic breast cancer that had spread to her spine. It was her daughter's sixth birthday. She underwent six months of chemotherapy, a double mastectomy, and radiation. Because Melissa possesses the HER-2 mutation, she was put on Herceptin and then she "waited for the other shoe to drop." That was 15 years ago. Melissa has continued on Herceptin ever since.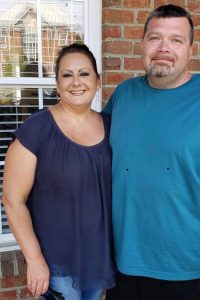 Seven years after diagnosis Melissa was dealt another blow. Her husband of twenty years—and high school sweetheart–had an affair with a family friend, says Melissa, and she was devastated. While Melissa says this betrayal and their subsequent divorce caused extreme depression and required mental health interventions, she ultimately decided "I'm not living in this place." Eventually, her kids encouraged her to "get back out there" and date again. "I had absolutely no self-confidence. Who's going to want me," the mom of five admits. However, after wading through "some bad apples," Melissa "found a wonderful man who was willing to look past all that" and has since remarried. He has been there to support her through a secondary leukemia diagnosis, potentially the result of her aggressive chemotherapy medication so many years prior. Melissa also manages this as a chronic condition.
Today, Melissa's children are 23, 21, 19, 17, and 15 years old. She says that she looked to her faith for guidance and also just set one goal at a time. Her first goal was "for my seven month old to remember me." That was 15 years ago. Her current goal is "to live and see all my kids graduate from college."
In terms of lifestyle changes, Melissa says "at first I did it all. I did all the craziness…spent a lot of money, but I said, you know what, I like my sweets. I'm not living like this." Now Melissa suggests moderation is a more sustainable option.
Melissa admits, "I still have bad days. Woe is me. I say, Melissa, just get up." She recognizes that this illness—and how it changes relationships—can be brutal and heartbreaking, and she has bravely discussed her bouts of severe depression (I'm "an open book" she says) so that it might help others see that there's no perfect template to deal with this diagnosis, or life's other challenges. Her remarkable story also shows that there is love after heartbreak, even in the shadow of this diagnosis.
Thank you, Melissa, for sharing your story with such honesty and grace.